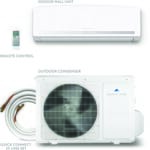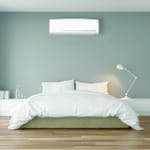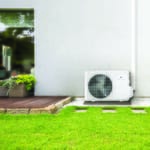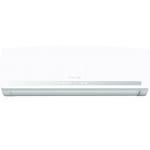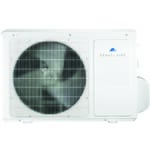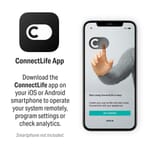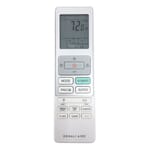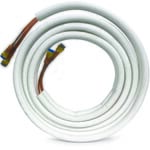 Model #: DNMSHQC9A
9,000 BTU 19.5 SEER Quick Connect Mini-Split Heat Pump Kit — 115V
Take the guess work (and ducts) out cooling and heating your home with the 9,000 BTU Quick Connect Mini-Split with Heat Pump from Denali Aire. Designed to cool spaces up to 350 sq. ft., the Denali Aire Quick Connect Mini-Split delivers maximum comfort, efficiency and temperature control — all without the need for expensive duct work. Zoned comfort for individual rooms is both efficient and affordable with this Energy Star-rated system, which uses the latest technology to control your environment. Thanks to our innovative line set attachments, installation is easy since there's no extra refrigerant required or system evacuation necessary. You can set-up this system yourself within hours and start feeling cool comfort right away. With the latest technology and best in class design, Denali Aire 9,000 BTU Quick Connect Mini-Split gives you total control of cooling and heating your home. Create the climate you want.
9,000 BTU Cooling/ 9,500 BTU Heating

Seasonal Energy Efficiency Ratio (SEER) 19.5

For single-zones up to 350 sq. ft.

Energy efficient heat pump

Energy Star-rated, AHRI certified
Indoor Unit Dimensions: 32.25 in x 10.75 in x 8.5 in | Outdoor Unit Dimensions (WHD) 28.25 in x 19 in x 9.5 in
product Features
Elevated Climate Control For Single Zones
9,000 BTU Quick Connect Mini-Split built for single-zone environments up to 350 sq. ft. Kit includes:
High-wall unit
Mounting bracket
Outdoor condenser
Cable & line set
Installation accessories
User & Installation Manual
App Manual
Tested and Approved
AHRI certified and Energy Star rated with a high-efficiency 19.5 SEER
Purpose-Built For Easy Installation
Made with the consumer in mind, the Denali Aire Quick Connect Mini-Split includes revolutionary Quick Connect adapters for ultra-easy installation. Perfect for the at-home installer, these attachments eliminate the need to charge or evacuate refrigerant.
Control At Home Or On-The-Go
Easily control room temperature, set fan speeds and create programmable, intelligent modes for when you're at home or away, all from your mobile device with the Connect Life mobile app.
Convenient Remote Control
Full-function remote control includes a built-in thermostat that puts you in control of your comfort — anytime, anywhere
Total Airflow Control Is Now Yours
7 indoor fan speeds
Adjustable vertical and horizontal swing louvers
Programmable 24-hour timer
Intelligent Modes: Smart, Super and Auto
Eco-Friendly Filter And Refrigerant
Advanced indoor air handler features a reusable and durable filter, just slide-out and wash with soap and water — no need to purchase replacements.
System features premium R410A, an energy efficient, environmentally-friendly and safe refrigerant
Energy Efficient Heat Pump
High-performing inverter heat pump condenser with compressor intelligent pre-heating is designed to efficiently operate in temperatures down to 5ׄ°F (-15°C) in cooling mode and -4°F (-20°C) in heat mode
product Specifications
Cooling Capacity (BTU)
9,000
Heating Capacity (BTU)
9,500
Seasonal Energy Efficiency Rating (EER)
19.5
Energy Efficiency Rating (EER)
12.8
Rated Cooling Current (A)
6.3
Rated Heating Current (A)
7.0
Rated Input Cooling (W)
700
Rated Input Heating (W)
780
Fan Speeds (Cool/Heat/Fan)
7/7/7
Indoor Sound Level (dBa)(Hi/Low)
39/26
Remote Control
"IFEEL" Remote Control
Min. Operating Temperature (°F)(Cooling/Heating)
5-115/ -4-75
Liquid Connection (in.)
1/4
Suction Connection (in.)
3/8
Design Pressure (PSIG)
240-550
Warranty
1 Year Full Replacement Warranty
California Proposition 65 Compounds
Lead and Lead Compounds